HOME
VIT: Visual Inference Tools
VIT is a developing collection of software modules for use in teaching and learning experiences aimed at developing the core concepts of statistical inference.
(Latest software update, 9 May 2013 Windows, 22 April 2013 Mac)
It has modules for Sampling Variation (sampling distributions), Randomisation Variation, Bootstrap Confidence Intervals, Randomisation Tests (randomisation-based significance tests), and Confidence Interval Coverage. For capabilities, see
Overview
.
VIT has undergone a major upgrade (17 April 2012) giving it much greater capabilities than the previous version on the site (2 December 2011). Unfortunately the movies showing the use of the program have not been updated and are not likely to be until the end of May at the earliest.
VIT is made available on an as-is, where-is basis and is being continually updated as we fine-tune the modules, fix bugs and build additional modules.
Star Trek Inference Tour: From taking samples to Bootstrap and Randomisation Inference at Warp Speed,
a 25 min talk given on 23 November 2011 at the annual Auckland Statistics Teachers' Day, shows some of the early features of VIT. It is almost the same as the
Causeweb Webinar
that was delivered about an hour earlier, and is perhaps better told. It sketches a minimal conceptual pathway to bootstrap confidence intervals and randomisation tests and a setting in which VIT tools are particularly useful.
There are two other movies on the
Downloads
page.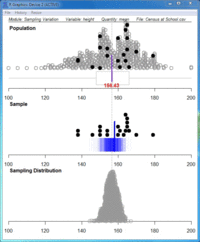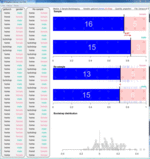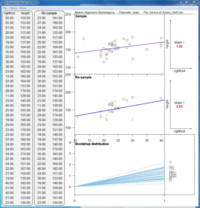 Behind the Scenes
This project is led by Chris Wild. Work on program infrastructure was begun by Garrett Grolemund (Rice University, who also came up with the name "Visual Inference Tools") and continued by Ben Stevenson and Simon Potter of the University of Auckland who have also done all of the programming of the modules. Their work builds from prototypes built by Keng Ha (Danny) Chang and Jieping (Vivian) Li.
<! ------------FOOTER-------------------------------------------------->