DOWNLOADS | WINDOWS STANDALONE
iNZight Download Page
Download and installation for Windows
iNZight is packaged together with
VIT
. Both iNZight and VIT are R libraries but here we have packaged them inside a copy of R in such a way that they appear to the user as standalone software. (The user does not have to interact with R.)
Installation
Download and save the zip file http://www.stat.auckland.ac.nz/~wild/downloads/iNZightVIT_13-05-09.zip (110 Mb) which is a zipped up folder.
Open this zip file using Windows Explorer. There is a single folder inside of the same name (iNZightVIT_13-05-09).
Drag this folder to a location outside the zip file, e.g onto your Desktop
If, instead, you use Winzip to open the zip file, extract its contents to the Desktop.
Inside the iNZightVIT folder you should see the following set of folders and files: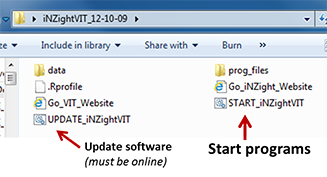 Installation Notes
If you already have iNZightVIT version 13-02-27 or later (yy-mm-dd):
You need not download the whole system
Instead, double click on the file UPDATE_iNZightVIT (as above) while connected to the internet.
For the majority of Windows users, iNZight and VIT do not need to be formally installed so you do not need administrator privileges. On most Windows machines it will run from wherever you put the folder provided that it is outside the zip file.
With some institutionally-owned machines with high security settings you may need put it onto an external drive (e.g. a memory stick) and run it from there.
For some people for whom it will not run from the Desktop but will from C drive, and some institutionally-owned machines have the security so locked down that it will not even run from a memory stick.
The indicator of the program being blocked by security settings is a pop-up error message saying "The procedure entry point libintl_setlocale could not be located in the dynamic link library intl.dill."
If this happens even from a memory stick you will have to involve someone with adminstrator privileges.
Click here for Change history.
Running iNZight
Open the iNZightVIT folder and double click on the file START_iNZightVIT

You will briefly see a splash screen and then about 15 secs later the iNZightVIT Home screen will appear.


Notes
iNZight may take another 15 seconds to load.
A dialogue window will appear that let's you choose between running iNZight and running VIT.
Go to Basics to see how to read in data and explore variables, etc
<! ------------FOOTER-------------------------------------------------->