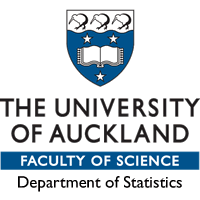 CatchIT Graphics
Kaipupu Point - Sounds Wildlife Sanctuary Movies 2007-2016 The movies show bird-count heatmaps over time. Bird counts are scaled by the number of visits in each year: for example if there were two visits in a particular year, the heatmap shows the average count at each counting station over the two visits. The date cursor at the top shows the date range for each frame.
Right-click on the movie image to save a copy to your own computer.
The blue arrows mark pest eradication in 2013 following a brodifacoum drop at the end of 2012 and the subsequent commencement of trapping.
Silvereye / Tauhou (850)
Bellbird / Korimako (421)
Silvereye and Bellbird: side-by-side movies
Silvereye are on the left in red; Bellbird are on the right in pink.
Grey warbler / Riroriro (135)
Fantail / Piwakawaka (80)
Shining cuckoo / Pipiwharauroa (55)
NZ Pigeon / Kereru (23)
Total Silvereye / Tauhou: 2007-2016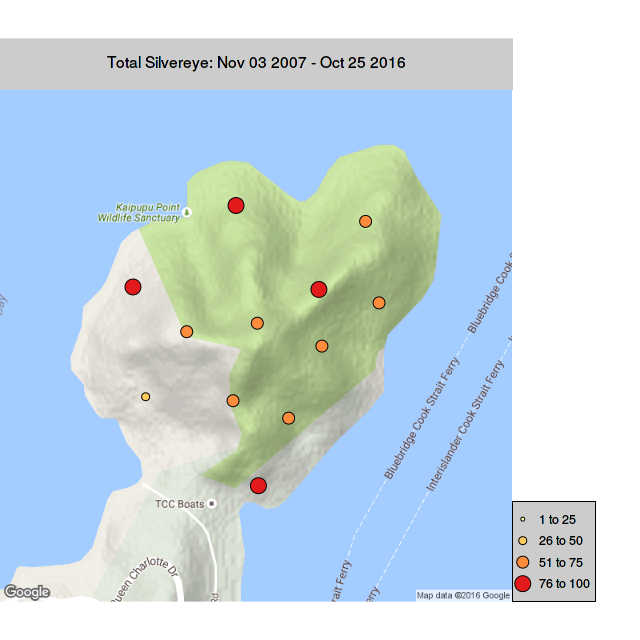 Total Bellbird / Korimako: 2007-2016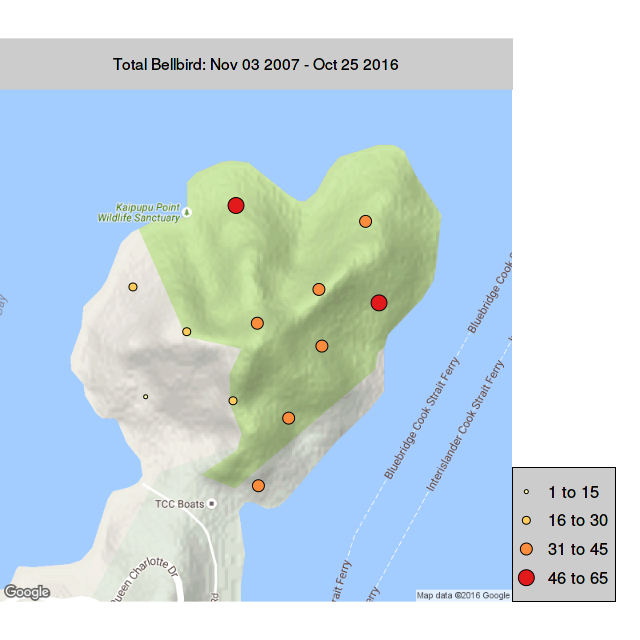 ---
CatchIT is data-management software for conservation projects in New Zealand. For questions or comments, please contact Rachel Fewster.
---