NZ Probability Workshop 2016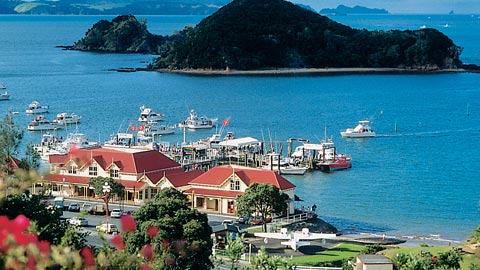 Organiser: Mark Holmes (email)
Department of Statistics, the University of Auckland
This 5 day workshop will consist of 3 days of talks with 2 days left open for discussion/excursion. Planned excursion(s) are weather dependent and may include a boat trip.
Intended arrival and departure dates to/from Paihia are Sunday Jan 3 and Saturday Jan 9 respectively.
Conference Location
Accommodation and all lectures will be in the Scenic Hotel Paihia. Catering (welcome coffee, morning tea, lunch, and dinner) will be provided on each day of seminars.
Speakers will have access to both a data-projector and whiteboard(s).
(1) Fly to Auckland and take a bus (or drive) to Paihia.
I expect to charter a mini-bus for the return journey from Auckland to Paihia around midday on Jan 3 and on the morning of Jan 9. For those of you whose flight schedule might not match this chartered bus, there are a number of standard bus options
here
Note that I expect most of these buses will leave from the city centre - NOT from the airport, in which case you have to first make your way to the city centre by taxi (expensive) or bus.
(2) Fly to Kerikeri and then take a bus to Paihia.
(3) Own transportation, e.g. rent a car and drive
Programme
Arrival Sunday 3 January - talks start Monday 4 January and end Friday 8 January - departure Saturday 9 January
draft Programme
Internet
Wireless internet will be available at the conference location.
List of participants
Andrew Barbour (Zuerich)
David Brydges (UBC)
Federico Camia (NYU Abu Dhabi, V.U. Amsterdam)
Tan Do (Auckland)
Alex Drewitz (U. Cologne)
Tim Garoni (Monash)
Jan de Gier (Melbourne)
Tony Guttmann (Melbourne)
Ben Hambly (Oxford)
Mark Holmes (Auckland)
Kostya Khanin (Toronto)
Estate Khmaladze (Victoria U. Wellington)
Bas Kleijn (Amsterdam)
Elena Kosygina (Baruch/CUNY)
Chuck Newman (NYU)
Alejandro Ramirez (P.U.C. Chile)
Wioletta Ruszel (Delft)
Akira Sakai (Hokkaido)
Dan Stein (NYU)
Daniel Valesin (Groningen)
Eve Waddington (Auckland)
Larry Wright (Columbia)