Accommodation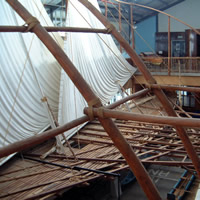 The official conference hotel is the Copthorne Hotel Auckland Harbour City, a mid-range hotel on the edge of the Viaduct area and a short walk from the Maritime Museum.
Rate: NZ$125 + 12.5% GST per night (Convert to Euro or USD)
Hotel bookings at the IASS 55 conference rate cannot be made online.
Please send the following information to the Copthorne Hotel Auckland Harbour City using any of:
Email:
copthorne.harbourcity@mckhotels.co.nz
Fax: +64 9 307 8159
Phone: +64 9 377 0349
There are many other hotels in Auckland in the downtown and waterfront areas. If, for example, you want some luxury and something a little different, the Auckland Hilton is right out on the end of a pier and is shaped like a ship.
Enquiries to: Chris Wild c.wild@auckland.ac.nz