Location and Venue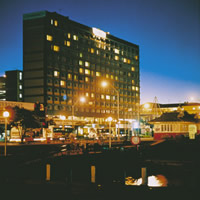 The Conference is to be held in the Maritime Museum in the heart of Auckland's Viaduct Basin. This is the downtown waterfront area which was the centre of activities for the last two America's Cups and is an area known for its restaurants, bars and luxury yachts.
For accommodation we suggest the Copthorne Hotel Auckland Harbour City, a mid-range hotel on the edge of the Viaduct area and a short walk from the Maritime Museum.
---
Getting There
The Auckland International Airport is approximately 45 minutes from the city centre. Once you arrive in Auckland please organize a taxi or shuttle bus to your accommodation, cost about NZ$50.
Taxis operate on a first off the rank style. One of the most popular companies is the Auckland Co-Operative Taxi Society (phone 300-3000).
Otherwise catch the Air Bus, NZ$15, to the Copthorne Hotel. The Air Bus does a loop around the Auckland City hotels.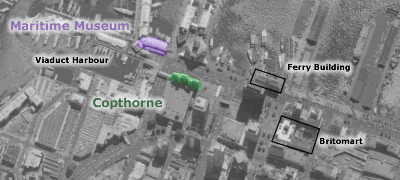 Insurance
It is recommended that participants arrange insurance for medical expenses, loss and accidents that may occur during the Forum. The University of Auckland cannot be held responsible for any losses, damages or injuries.
Electricity
Auckland operates on alternating current (AC) 230 volts, 50 hertz mains supply. We use 3-pin plugs - the same as Australia. The pins are flat and angled.
Currency
Banks and Exchanges are available every day to change most kinds of currency to the NZ Dollar. ATM machines are widely available.
The exchange rate of the NZ$ has been about NZ$1.39 to the U.S dollar (as of 24 March 2005).
Climate
New Zealand has a temperate climate where the northern part of the country is noticeably warmer than the southern part. There are four seasons: Summer (December to February), Autumn (March to May), Winter (June to August) and Spring (September to November).
Auckland is near the top of the North Island. In April the mean daily maximum temperature is 20°C/68°F and the mean daily minimum temperature is 12.3°C/54.1°F. The weather is variable and in April is somewhat likely to be wet. The mean April rainfall is 105mm (4.1ins) with a mean of 11 wet days in April.
Visa
Every international traveler needs to check with their own authorities regarding travel visas.
Weights & Measures
NZ uses the metric system.
We drive on the left hand side of the road. If you are going to drive, ask about our weird left-turn rule.
Enquiries to: Chris Wild c.wild@auckland.ac.nz